PPE Products
Looking for a specific item or just browsing for ideas? Image Group Inc. is your one-stop shop for promotional products and business gifts. Our extensive range of promo products will ensure you find something to suit your requirements.
With 1000s of selections, Image Group Inc. offers branded merchandise to fulfill all of your needs.
Survival Kit
This kit includes 4 fun items to keep the mind and workspace balanced. The Fold Stand, an adjustable device for phone or tablet, the Cable Catch, desktop cable organizer and the Kolor Kit, a colouring book & 6 coloured pencils.
Desk Air Purifier
Purify the air in your workspace with this handy desktop air purifier. It kills germs effectively in a 3-5 cubic meter space with a quiet motor, so you can focus on your most important tasks.
Reusable Clear Face Mask
Cotton, polyester, spandex and clear plastic TPU face shield with dual ear loops made with 2-layers of material and a TPU clear window. A nose and chin panel provides structure for a comfortable fit.
3 Layer Commuter Face Mask
Now the very best in technical apparel & fashion can be paired with the very best in protective face coverings. Features 3-layer 100% cotton protection with an extra 5 layer PM2.5 activated carbon filter.
UV Sterilizing Box + Wireless Charging + Diffuser
UV Sterilizer/ 10W Fast Wireless Charger & Aromatherapy Diffuser. The multi-function UV sterilization box can hold 6.5" large screen phones & small items. Just 1 click to do a quick or standard sterilization.
4 Ply Adjustable Polyester Mask
This face mask is easy to use, with an over the ear design and adjustable ear loops that allow for superior comfort. A fully sublimated exterior features your branding and design.
Handies PPE Combo Pack
This kit includes a level 1 mask, one pair of nitrile gloves, and a disinfectant handies one-wipe. Three essential items in a single convenient pack to carry in your bag or keep in your glove box.
Reusable 3 Layer Face Mask
100% Brushed Cotton Poplin Mask with 3 Layers (2 layers + non-removable polypropylene filter). Pleated for ergonomic coverage, built-in metal nose clip, adjustable elastic ear loops with slider and stopper.
Plastic Ballpoint Pen with Liquid Sanitizer Pump
Refillable liquid sanitizer pump that provides 50+ sprays of lemon scented sanitizer. This pen provides a simple, portable solution to kill surface bacteria on hands, door handles & counter surfaces.
Touch Find – Two-Way Bluetooth Finder and Touch Tool
This combination key finder & touch-free tool uses Bluetooth® technology to help locate & remember important items, like your keys. Touch Find keeps you from touching common public surfaces to reduce the transmission of germs.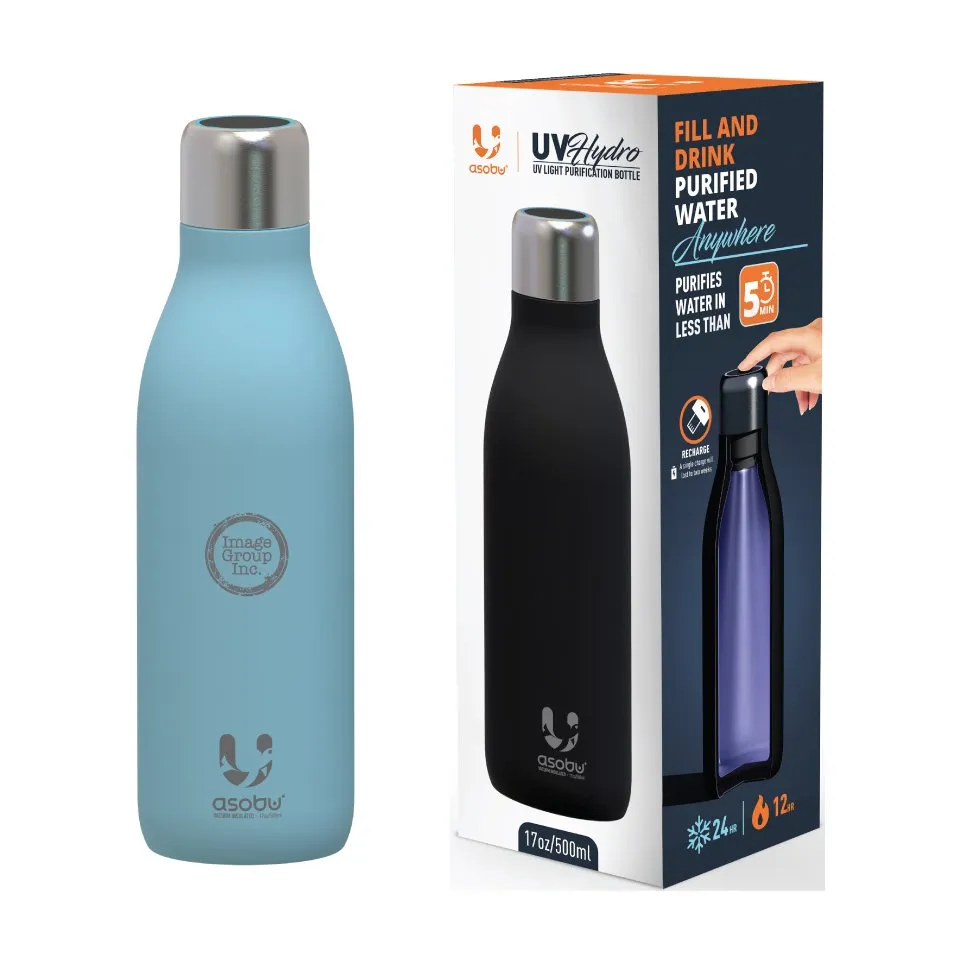 UV Light Hydro Stainless Steel Bottle
Simply press the button on the lid & the UV light will purify your water in less than 5 mins. Vacuum insulated & you can fill & drink purified water anywhere. UV light kills up to 99.9% of germs in water.
Paper Soap
Compact soap for clean hands without the mess of liquid or bar soap. Remove the soap sheets with dry hands & just add water. The paper soap is stored in a hard plastic flip-top case that is easy to take on the go.
Ready to Sew DIY Mask Kit
Make 10 of your own cotton washable 2-ply, simple-pleated masks. Kits come with the pattern, material & elastics & you can insert a filter or extra layer of fabric. The mask's outer layer is made from upcycled, end-of-roll fabrics.
Mask Lanyard
A sublimated mask lanyard with a double standard attachment. The lanyard's two clips ensure the mask remains safe and within reach at all times. Available in any width and length.
bbSnaps
bbSNAPS are designed to alleviate pressure from mask straps & aid in providing a more snug, secure fit. Can be used on caps, shirts, headbands, or other material without causing damage.
Reusable Face Masks (3 Pack) Starter Kit
Reusable Facemask PPE kit with three Reusable Fabric Masks, one pack of 3-ply Single Use Filters (10 per pack) and a reusable mesh laundering bag. The essentials you need to be prepared.
OtterBox Phone Soap® 3
With PhoneSoap, a charged phone is a clean phone. UV sanitizer kills 99.99%* of germs, in 10 minutes. Fits all smartphones and most case sizes. Safely sanitizes anything that fits inside.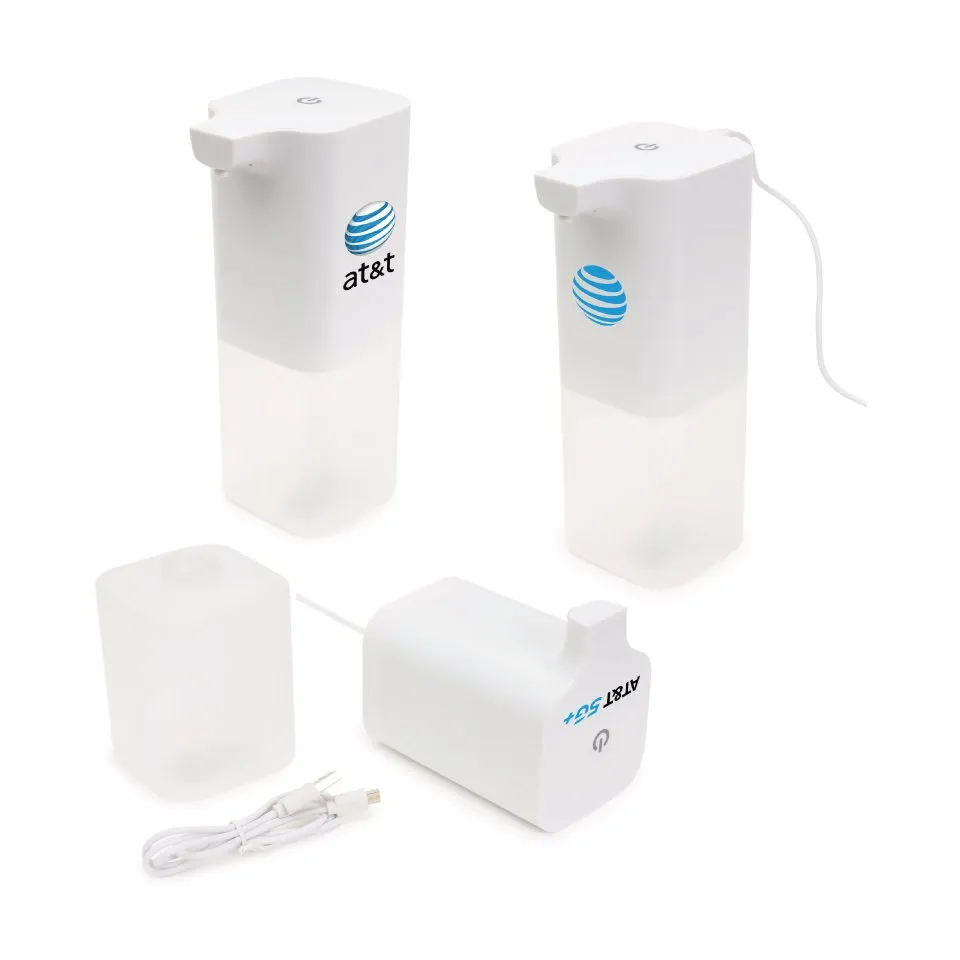 Gel Sanitizer / Liquid Soap Dispenser
Touch-free, infrared sensor automatically dispenses soap or sanitizer. Refillable & rechargeable. Non-contact feature offers a safe solution to clean your hands without having to touch or contaminate the machine.
Stormtech Oasis Touch Screen Gloves
Lightweight & warm stretch fit gloves that are touch-screen compatible. ViralOff® antimicrobial textile treatment inactivates pathogens, reduces contamination risk, & allows you to wear gloves longer with less washing.
Antimicrobial Push-Action Ballpoint Pen
When an in-person signature is required, minimize the transmission of germs by using this pen treated with a registered antimicrobial additive to prevent product degradation.
Alcohol Wipe Pack
Each wipe is 6" x 8". Plastic lid with large imprint area. 75% Ethyl Alcohol. Custom label included. NPN number on label.
Antimicrobial Lanyard
Specially crafted to inhibit the growth of microorganisms. Each lanyard includes a sewn in breakaway & plastic clip for keys, badge holders & more.
Antibacterial Hand Sanitizer Spray
Colourful carabiner clip with 10ml antibacterial cleanser spray. Full Colour Label. FDA Approved.
Antimicrobial Mousepad
Fabric Antimicrobial Surface Mouse Pads with a soft surface for superior mousing. Brilliant imprint permanently dyed into pad. Won't crack or peel.
Copper B-Safe Key
Use this safety tool to open doors, pin keypads, smartphones, touchscreens, push elevator buttons, lock bathroom stalls & more. Copper has anti-germ properties reducing surface time to 3 hours.
Contactless Infrared Thermometer
Designed with high-quality & accuracy. Able to take accurate temperatures in 0.5 seconds. The non-contact design allows hygienic and convenient measurement, without contact.
UV Clean Wand
Portable UV-C light that can be used to sterilize small devices, door handles, cutlery, etc. when in public. The built-in UV Light uses short-wavelength light to kill or inactivate microorganisms, so you can sterilize on-the-go.
UV Phone Sterilizer with Wireless Charging Pad
Can kill up to 99.9% of bacteria & viruses by using UV-C light technology. Two UV germicidal LEDs are used for optimal sterilization. It can sterilize almost anything that fits inside.
Reusable 4 Ply Full Colour Polyester Mask
Easy to use with an over the ear design that allows for superior comfort. A fully sublimated exterior features your branding & design. Made from 1 layer 160gsm polyester, and 3 layers of 140gsm cotton.
Reusable Face Mask Wash Bag
The mesh bag protects your masks from tangling, snagging, or pulling in the washer. Top zippered closure with elastic loop to keep zipper secure when closed & in use.
Reusable 2 Layer Face Mask
100% Cotton Outer, 96% Polyester/4% Spandex Inner. Adjustable integrated metal nose frame & elastic straps with a soft interior lining. Interior Filter Pocket (filter not included).